Our Drive Time Maps site, www.drivetimemaps.co.uk, enables you to quickly and easily generate shaded maps that show the area reachable from a specific location within a certain amount of driving time.  This can be useful for many forms of location analysis including territory planning, site selection, network planning and catchment area analysis.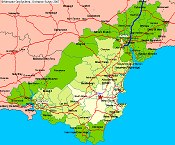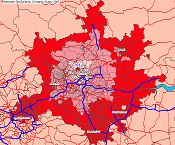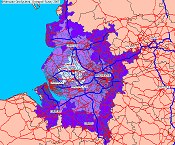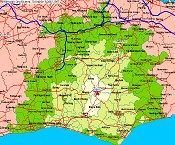 To use the site simply enter a place name, postal code or map coordinate and then preview your map.  You can optionally configure a number of aspects of how the map will appear including :
The maximum drive time to show
Peak or Off Peak driving times
The colour scheme to use
The map's title
Supporting data including a drive time and population counts
Wether to show roads and place names 
How to receieve your map (PDF of a or web page)
You can adjust your preview until you're happy with the map and then press "Buy my map" to pay for your map with a credit card or via PayPal and then simply download it onto your computer.
Click on this sample map to see a larger version or click here to see the PDF version :
Our online drive time mapping service has been running for over 5 years now with many satisfied customers from across Great Britain.
Watch our introdutory video on YouTube that shows how to create drive time maps here :
In addition we can also offer access to driving time data that you can download yourself and make your own maps with on the companion site, www.drivetimedata.co.uk.